Introhive + HubSpot
Create Powerful Campaigns and Reports To Accelerate Revenue
Pull your Introhive Contact and Company data into HubSpot for marketing and sales automation that drives real results.
What Can You Do With the Integration?
Create Personalized Campaigns
Equip Revenue Teams
Dig Into Reporting
Create Personalized Marketing & Sales Campaigns
Use valuable Introhive data in HubSpot to create customized marketing campaigns, email lead nurturing, and other workflows. After warming up leads with contextual campaigns, pass contacts from marketing to sales using Introhive score and relationship information.
Equip Revenue Teams With Recommendations
Give revenue teams accurate data they can rely on to improve win rates and surpass revenue targets. Daily syncs of data, including companies and industry data, will keep records up to date and increase team productivity. Your team will also enjoy:
Eliminating manual data importing and exporting
Trusting data is protected and accurate
Having more time to focus on critical work
Working from one system or a single source of truth
Dig Into Reporting to Find Opportunities & Optimize Efforts
Everything that syncs from Introhive to HubSpot can be used with HubSpot's powerful reporting tools. When HubSpot learns which leads convert to customers and why, companies win with valuable insight into what's working and what's not. Unlock even more HubSpot potential, including Reporting Add-on Dashboards, advanced list segmentation, and workflows to make the most of your opportunities.
What Object Data Flows Between Introhive and HubSpot?
Our integration takes Introhive data extracts — data dumps of contacts, companies, and other fields like activities, relationships, and scores — and pulls them into HubSpot.
| HubSpot | | Introhive |
| --- | --- | --- |
| Company | | Company |
| Contact | | Contact |
DIY With Self-Service
Implementing your Introhive integration is simple and takes only a few steps.
1. Download The App From The HubSpot Marketplace

Head to the HubSpot app marketplace or hit install on this page, download the integration, grant access, and select your portal.
2. Choose Your Object Mappings, Sync Settings, and More

Select which objects to sync, choose a support package, and fill in customer and billing information.
3. Configure App and Go Live!

Authorize access to the integration, then configure the API by adding your Introhive API Key, owner, and email address for error reporting. Complete the additional questionnaire, hit submit, and run your sync!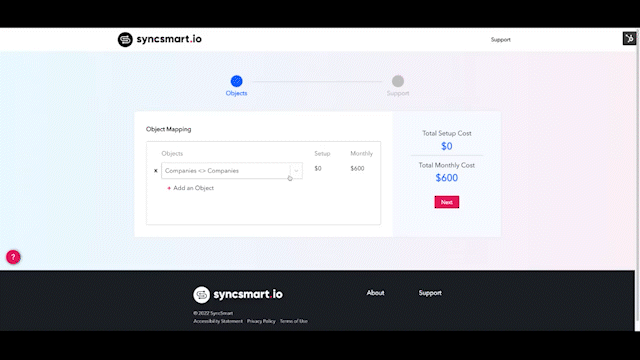 "Introhive automatically creates contacts, companies, and activities in HubSpot the day after they occur without manually creating them in HubSpot. From there, our professionals can enhance the data by adding their notes and knowledge, then create deals and follow-up tasks. It is great because it doesn't feel like each record is ever starting from a blank slate."
See How Whitley Penn Uses the Introhive HubSpot Integration
Read how Whitley Penn pushes Introhive lead and customer data to HubSpot to maximize their sales processes.
FAQ
Need an Answer Now?
Browse our frequently asked questions.
The integration moves Introhive data into HubSpot using Introhive data extracts or CSV files. Introhive provides CSV files and other fields that will flow into HubSpot after a user installs the application and goes through the self-service setup and implementation processes. Unlike other integrations, this app does not run in real time. It updates once a day.
Can users request a sandbox account or environment?

Yes. We can work with clients to enable a sandbox account to test the integration before pushing any live changes. However, this is an add-on and does not come with the integration.
What can a user do to have a successful sync?

Clean Introhive data, looking for any duplicates, outdated, or inaccurate data. Ask questions about the SyncSmart user interface (UI) when necessary. Opt for a support package to maintain the health of the integration.
Can companies integrate more than one system?

Yes! We make integrating tools with HubSpot easy and touchless. Explore our site for additional integrations. Once an integration is up and running, it operates seamlessly in the background.
Once the integration is complete, how will I be supported?

The SyncSmart team actively monitors for errors to prevent integrations from stopping. You can also purchase managed support packages to gain access to support articles, ticketing desks, and more. You can explore managed support packages here.
Total Estimated Monthly Cost
Total Estimated Yearly Cost
You'll receive an email with your estimate soon.
Achieve Real Business Success
Install the Introhive HubSpot integration to start acting on your Introhive data using HubSpot tools today.