Multi-Portal HubSpot Sync Integration
Connect Sales and Marketing Data Across Multiple HubSpot Portals
Take the complexity out of syncing data from multiple portals into your main portal so you can focus on growing your entire organization.
What Can You Do With the Integration?
Sync Multiple Portals Into One
Increase Data Visibility and Alignment
Create Better Reporting and Campaigns
Test In A Safe Sandbox Environment
Sync Multiple Portals Into One For Data Consistency
For franchises looking to consolidate data into one single source of truth, the Multi-Portal Sync Integration can help. Sync your multiple portals into one and migrate your Contact, Company, Deals, and Engagement data to keep track of customer and prospect information and use it for reporting, campaigns, and more across your entire company.
Increase Data Visibility and Align Your Franchises, Global Teams, or Subsidiaries
Don't worry about missing any key data points through messy imports or endless spreadsheets. Use the app to integrate multiple HubSpot portals to connect multiple corporate subsidiaries, franchise portals, or global teams working from different HubSpot accounts.
Use Connected Information For Better Reporting and Campaigns
Take your data from your portals and dive into HubSpot reporting in your main portal! Build better sales and marketing campaigns for your franchisees or business units. Sit back and enjoy as you increase lead generation or close deals for your entire organization.
Test Everything in a Safe Sandbox Environment
Not ready to add an additional portal? Curious about what adding a new object mapping will look like? With the app, you can keep all your data in a sandbox portal for safe development, training, and testing. All that information is mirrored directly from the live production environment for the most up-to-date data. Note: This is an add-on and will incur an additional cost.
What Are Object Mapping Capabilities of the Multi-Portal Sync Integration?
Our Multi-Portal Sync Integration can connect Contact, Company, Deals, and Engagements data from multiple portals to one main portal. You can also sync properties and pipelines from your main portal to your other portals.
| Mother Portal | | Child Portals |
| --- | --- | --- |
| Engagements | | Engagements |
| Deals | | Deals |
| Contacts | | Contacts |
| Companies | | Companies |
| Properties | | Properties |
| Pipelines | | Pipelines |
GUIDED ONBOARDING AND IMPLEMENTATION
Syncing multiple HubSpot portals is simple and backed by experts. See how we help from Day 1
Work With SyncSmart to Set Up Your Integration

Find the Multi-Portal Sync integration on the HubSpot app marketplace or contact SyncSmart, then complete the sign up process. From there, you'll meet with our team to talk through implementation.
Meet With Your Implementation Consultant

We will have a kick-off call to introduce the team, confirm use cases, present object mapping and field mappings, discuss dropdown and owner fields, and more.
Test and Launch Your Integration

We'll ensure your integration is ready through extensive and collaborative User Acceptance Testing (UAT). When ready, we'll launch the integration with an optional historical sync to get up and running with pre-collected data. You can also purchase a sandbox environment at any point in the process for future integration testing.
During the process, you can purchase different support packages to fit your company's budget and needs. Once you're live, we'll offer this ongoing support as scoped.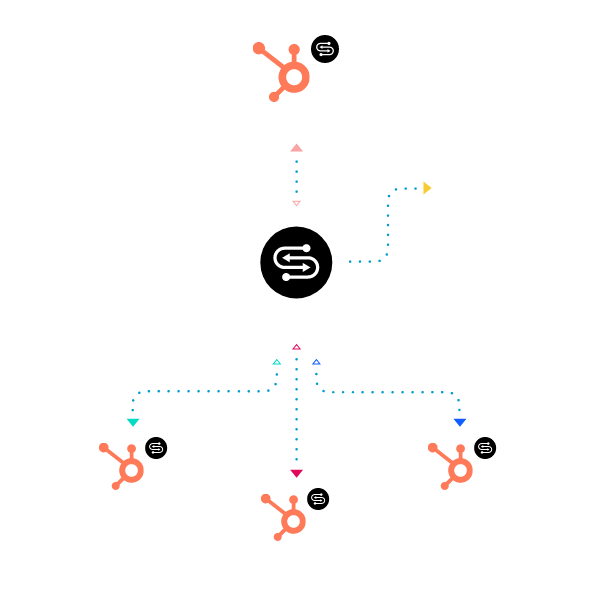 FAQ
Need an Answer Now?
Browse our frequently asked questions.
How many child portals can SyncSmart support?

The app can support as many child portals as a company needs.
What hubs can sync? Can information from a Marketing Hub portal sync to a Service Hub portal?

Currently, nothing in the Multi-Portal Sync Integration code looks at what hubs are in the mother portal and what hubs are in a child. It adjusts accordingly. There are no issues with everything the app can currently do, and new iterations are always in the works. In addition, HubSpot tiers only matter from the standpoint of count limitations. An Enterprise mother portal may have 10 custom pipelines to send to the Starter child, but only one will be created in the Starter because starters can only have two, and all portals come with a default pipeline.
How long will the integration process take?

That depends, especially on your involvement during UAT. With guided implementation, it can take 6-12 weeks.
Once the integration is complete, how will I be supported?

The SyncSmart team actively monitors for errors to prevent integrations from stopping. You can also purchase managed support packages to gain access to support articles, ticketing desks, and more. You can explore managed support packages here.
Combine Your Multiple HubSpot Portals
Make better-informed decisions based on accurate data with the Multi-Portal Sync Integration.