HubSpot + Wix
Build a Marketing and Sales Powerhouse
Harness the power of HubSpot's marketing automation with your Wix site and form data.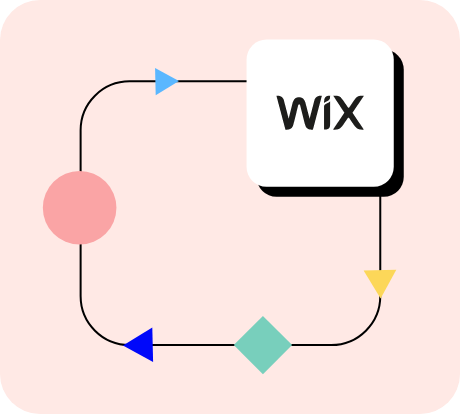 What Can You Do With the Wix App?
Track Website Traffic
Update/Create Wix Contacts
Create Targeted Content
Segment Lists
Optimize Your Site
Track and Report on Your Website Traffic
The Wix app automatically installs the HubSpot tracking code to your website, so you can monitor your Wix website traffic and analytics in HubSpot to help accelerate your marketing and sales efforts. Examine KPIs like:
Page views
Click-through rates
Bounce rates
Sessions
Traffic sources
Device types
Update and Create Wix Contacts in HubSpot
Worried your Wix contact won't show up in HubSpot? Every time a contact submits a Wix form, the integration will save all the details (first name, last name, email address, phone number, and physical address) to a timeline event in the corresponding HubSpot contact. If it's a new contact, the integration will create the contact for you and log the event on their timeline.
Create Targeted Content for Your Customer Journey
Using the fields that sync over via the app, your team can paint a picture of who your customers are and how they came to your site. You can curate content instead of writing generic collateral when you have a better idea of who's visiting your site and why.
Segment Lists and Trigger Emails/Workflows
Segment your lists based on the Wix form information your contacts have submitted. Take your lead nurturing a step further by enrolling contacts into workflows based on those same details, triggering your lead nurtures right after form submission. With your Wix data in HubSpot, you can get creative with your email and automate where needed.
Optimize Your Site to Attract & Generate Leads
With the information you pull from reporting, you can boost your site in numerous ways, including:
Automating different content workflows
Improving organic traffic through better SEO tactics
Testing different CTAs
Editing your forms for an optimized strategy
Eliminating poor performing content
Improving poor performing sales or marketing collateral
Creating more nurturing content like case studies or creative portfolios
Removing anything that's slowing down your site, like large images
Wix + HubSpot Capabilities
Our app lets you connect your two systems to use their best qualities, amplifying your efforts and creating a marketing powerhouse. It achieves this through simple syncing of data.
| HubSpot | | Wix |
| --- | --- | --- |
| Contacts | | Contacts |
| Contacts | | Form Submissions |
| Tracking Code | | Site Template |
DIY With Self-Service
Implementing Your Wix App Is Simple and Takes Only a Few Steps
Click install the app on this webpage, where you'll be redirected to Wix. Fill out your information on the registration page.
Choose your package (based on the number of contacts syncing) and fill out the remaining customer and billing information.
3. Connect Your Wix Site to HubSpot

Once you've selected your package, you'll choose a Wix site to add to your integration. Review the Wix permissions. You'll then be redirected to HubSpot to select your portal, where you'll grant access and receive confirmation that you've finished!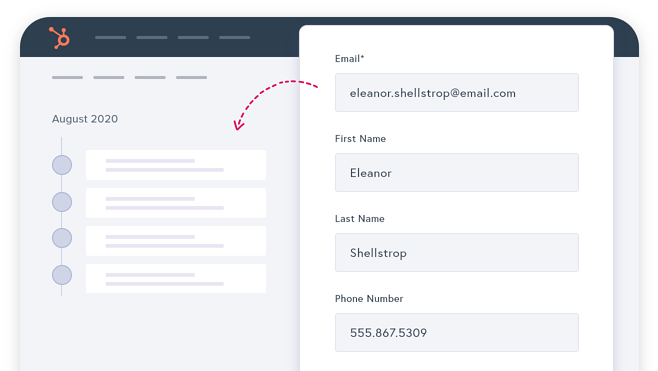 FAQ
Need an Answer Now?
Browse our frequently asked questions.
How much does the integration cost?

Packages range from $30 to $300 a month. Receive a 16% discount if you purchase a yearly plan.
Will the app sync historical data?

Yes with the Growth and Enterprise tiers. The integration matches all Wix contacts by email address, populating them in HubSpot. With the app, you'll be able to instantly connect with your current contacts as well as every new one moving forward. If you select the Enterprise tier, you can sync up to 300,000 historical records.
How long does it take to set up?

Setting up the Wix app only takes a few moments. Once you've completed registration and connected your systems, the app will automatically install your tracking code. New form submissions or new or updated contacts will begin coming in immediately. The time it takes to sync historical data will depend on your package tier.
Can companies integrate more than one system?

Yes. Simply add all the systems to the pricing and building tool. SyncSmart makes integrating tools with HubSpot easy and touchless. Once an integration is up and running, it operates seamlessly in the background.
How many Wix websites can sync to HubSpot?

You can only sync one Wix website to one HubSpot portal.
Can I sync custom form fields to contact properties in HubSpot?

Not currently. You can only sync the default properties. However, the entire form submission will appear on the HubSpot contact timeline as an event.
Does a company need a developer on their team?

While it may be helpful, it is not necessary with SyncSmart integrations. They require no IT experience and are backed by integration experts. All the heavy data importing is done on SyncSmart's end, with no integration software to learn.
What happens if the integration stops?

The SyncSmart team actively monitors for errors to prevent this. If the sync does stop, it will pick up where it left off.
Sync Contacts and Forms in Real Time
Install the Wix App now to harness the power of HubSpot's marketing automation with your Wix data.