COMING SOON: Twilio + HubSpot
Create Personalized, Engaging Text Message Campaigns in HubSpot
Send 1:1, behavior-based, and mass SMS marketing campaigns with a HubSpot + Twilio CRM extension.
What Can You Do With the Extension?
Send SMS to Contact Timelines
Deploy Workflows
Work Directly Out of HubSpot
Define Your Sending Numbers
Send Twilio Messages to HubSpot Contact Timelines
Automatically log your message activity to your contact timeline with the CRM extension. Never miss a single text message interaction with your prospects or customers again. Personalize your message with contact tokens, website URLs, and more.
Deploy 1:1, Behavior-Based, and Mass Workflows
Need to text an appointment reminder? Follow up on a form submission? Cross-promote a product or service based on your contact's engagement with your brand? What if you need to reach a mass audience? With HubSpot's workflows, including 1:1, product, and batch SMS workflow extensions, you can engage appropriately with your customers.
Work Directly Out of HubSpot
With the HubSpot + Twilio CRM extension, you'll never have to toggle between HubSpot and Twilio again. Work directly in HubSpot with your Twilio messaging data to build the text message marketing campaigns of your sales and marketing dreams.


Define Your Sending Numbers
Use the extension to define the sending phone number for your campaign. Select a local number for regional-based messaging and a toll-free number for national marketing campaigns.
DIY With Self-Service
Implementing your Twilio + HubSpot extension is simple and takes only a few steps.
Click install the app on this webpage, download the extension, grant access, and select your portal.
2. Fill Out Your Information

Choose your pricing package (based on the number of texts sent) and fill out the remaining customer and billing information.
3. Complete Installation And Go Live!

Finish authentication, head to HubSpot, and locate the extension under "Connected apps" to start sending workflows!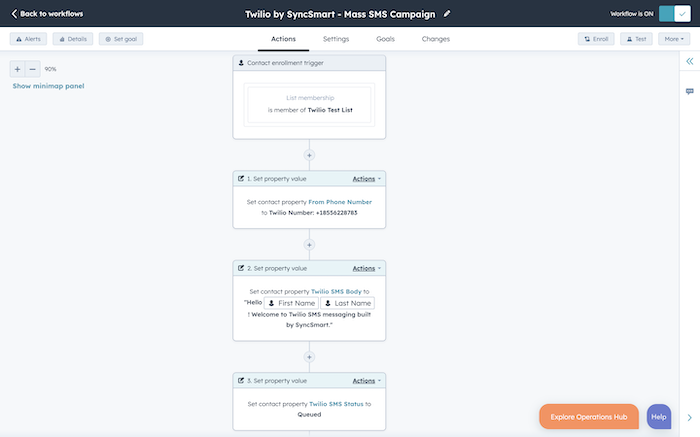 FAQ
Need an Answer Now?
Browse our frequently asked questions.
Does Twilio know when a customer sends an opt-in/opt-out message? Will the extension know the contact status?

Yes. When Twilio receives an Opt-Out keyword from a user, it adds the phone number to a list of blocked numbers. This will be checked before sending any future messages. With the Advanced Opt-Out, customers can track the most up-to-date information about their users' opt-in and opt-out preferences.
Does a company need a developer on their team?

While it may be helpful, it is not necessary with SyncSmart integrations. They require no IT experience and are backed by integration experts. All the heavy data importing is done on SyncSmart's end, with no integration software to learn.
Where do I go if I need help?

The SyncSmart team actively monitors for errors to prevent integrations from stopping. You can also purchase managed support packages to gain access to support articles, ticketing desks, and more. You can explore managed support packages here.
What if someone needs help with text message marketing ideas?
HubSpot and Twilio Pricing