Dynamics + HUBSPOT
Align Your Sales and Marketing Data
Automate tasks, share contact information, streamline your customers' buyer journey, and attain perfect harmony with a HubSpot Dynamics integration.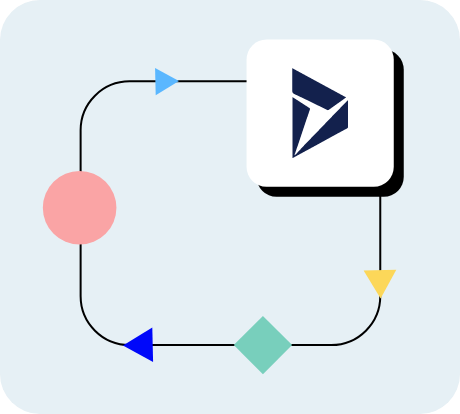 What Can You Do With the Integration?
Access CRM Data in HubSpot for Sales & Marketing
Close the Loop With Powerful Reporting
Customize Your Integration With More Features
Set Up Our Managed Solution Package
Access CRM Data in HubSpot for Sales & Marketing
Energize your sales and marketing teams by syncing CRM accounts to companies or Dynamics opportunities to HubSpot deals. Enjoy a perfect sync of all the valuable property and field data directly to HubSpot. Use it for:
Lead scoring, smart lists, workflows, content personalization
Personalized, contextualized, and automated sales and marketing communication
Building a stronger, more realistic sales pipeline
Close the Loop With Powerful Reporting
Everything that syncs between HubSpot and Dynamics can help you close the loop on lifecycle stages, revenue, and deals, and more. Optimize your efforts with additional features like instant access to HubSpot analytics and tracking in Dynamics through our embedded Mini Timeline.
Customize Your Integration With More Features
Need to sync Dynamics contact and lead lists to HubSpot? You can. Want to save time with smart bidirectional dropdown syncing? With our integration, your multi-select properties automatically update when new values sync. Additionally, you can purchase a sandbox environment to test out new features of your integration without risking your data!
Set Up Our Managed Solution Package
The Dynamics managed solution package installs all the components essential for your integration to function, from your fields to service endpoints and the Dynamics iFrame. Install it on your own or get help from our team. We do recommend backing up your Dynamics environment before installation.
HubSpot

Dynamics

Contacts
Leads
Contacts
Contacts
Companies
Accounts
Deals
Opportunities
Engagements
Activities

SyncSmart supports emails, tasks, appointments, phone calls, and notes for Activities.
Guided Onboarding and Implementation
Implementing your integration is simple and backed by experts. Take a look at our process and how we support you from Day 1.
Work With SyncSmart To Set Up The App
Meet With Your Implementation Consultant

We'll have a kick-off call to introduce the team, confirm use cases, present object mapping and field mappings, discuss dropdown and owner fields, and more.
Test and Launch Your Integration

We'll ensure your integration is ready through extensive and collaborative User Acceptance Testing (UAT). When ready, we'll launch the integration with an optional historical sync to get up and running with pre-collected data. You can also purchase a sandbox environment at any point in the process for future integration testing.
During the process, you can purchase different support packages to fit your company's budget and needs. Once you're live, we'll offer this ongoing support as scoped.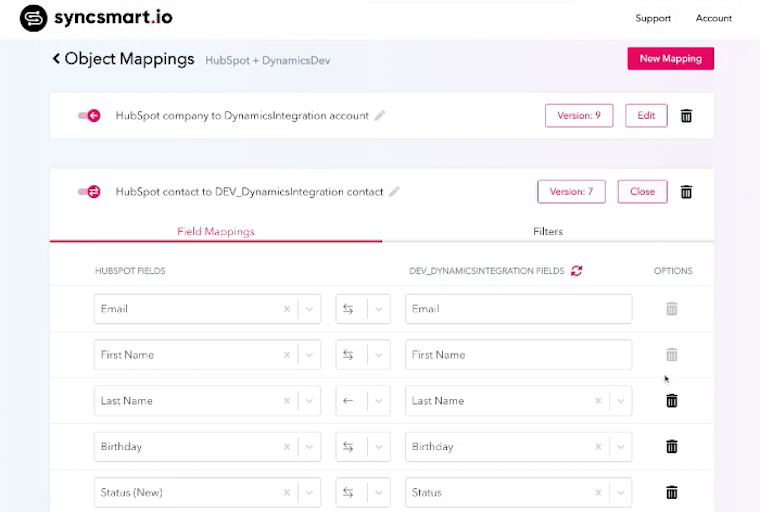 "I'm just watching data sync. I don't have to do anything twice. Even the simplest things that were a problem before, like misspelled names in our systems, are not happening. It's just working!"
Read How IBT Apps Saved Time and Money With a Dynamics Integration
See how combining the power of Dynamics with HubSpot optimized IBT Apps' processes and helped sales and marketing see the impact of their efforts.
FAQ
Need an Answer Now?
Browse our frequently asked questions.
How does the HubSpot + Dynamics integration automate work?

Every SyncSmart integration provides background integration tasks, like automated sales emails and movement of data, that lets users breathe easy and focus on their business.
Is the integration secure?

Yes. All SyncSmart integrations are point-to-point integrations that transmit data between systems without mirroring to a data warehouse for analysis, which results in secure syncing. SyncSmart also hosts each customer within a separate, secure customer account with their connector authentications, data cache, and integration runtimes.
How often is data updated?

Data from Dynamics to HubSpot is synced instantaneously (typically within 5 - 30 seconds). Data from HubSpot to Dynamics is typically synced every 5 minutes.
The integration updates data utilizing the Microsoft API and the HubSpot API.
What happens if the integration fails?

The integration recovers if one or both of the systems go down to the outage. The SyncSmart team is alerted in real-time of issues. Most often, the integration picks right back up but the team can investigate if it doesn't.
Once the integration is complete, how will I be supported?

The SyncSmart team actively monitors for errors to prevent integrations from stopping. You can also purchase managed support packages to gain access to support articles, ticketing desks, and more. You can explore managed support packages here.
Total Estimated Monthly Cost
Total Estimated Yearly Cost
You'll receive an email with your estimate soon.
Learn More About The Integration
Discover how syncing your Dynamics to HubSpot can keep your systems aligned and ensure accurate data.