HubSpot + SalesforceMake Smarter Sales and Marketing Decisions
Create a relevant experience for each contact, whether you're creating the right material to nurture a prospect or empowering your current customers.
Personalized and automated communication to boost team efficiency
Stronger analysis of the entire lifecycle of a sale with closed-loop reporting and no importing, exporting, or toggling between applications
The ability to build on top of HubSpot's native integration so you can do more to improve lead nurturing and build stronger relationships with all contacts
Eliminate double data entry, keeping your data clean and safe while re-engaging contacts for more closed deals
The Power of Integration
An integration by SyncSmart can level up your tech stack. Take disparate data sources and combine them with our syncing technology — allowing for data transparency and giving you a better line of sight into your marketing and sales process.
SyncSmart has been building HubSpot integrations since 2009, we have launched successful integrations large and small. Built on our proprietary HubSpot advanced connector technology, SyncSmart makes democratizing your tech stack easy.
Additional Information
What Features Are Available With a HubSpot Salesforce Integration?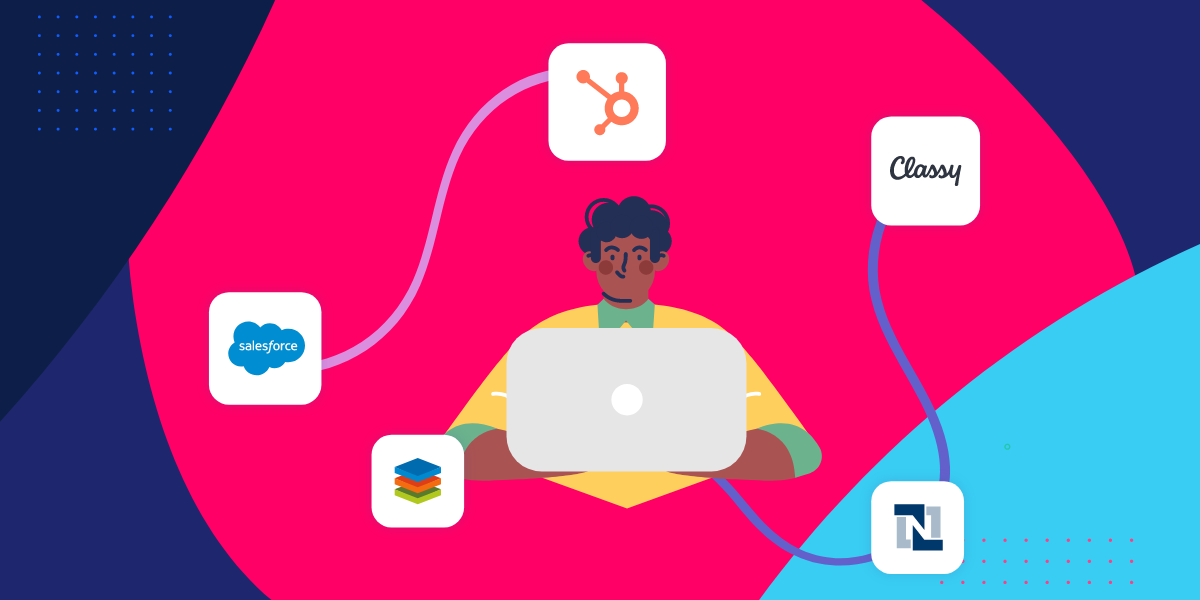 Organize your contact data with built-in and custom entities
Keep track of all your lead and customer information with HubSpot's built-in integration objects, like companies, accounts, contacts, and deals — then power it up by creating and syncing custom entities.
Align your sales and marketing data with flexible two-way syncing
Your HubSpot Salesforce integration is designed to support two-way sync logic for all the objects you need. Both your marketing and sales teams will benefit from valuable information flowing quickly and efficiently between both systems.
Choose the sync logic that's right for you
Depending on the complexity of your sync requirements, we can either run our integration alongside HubSpot's native sync, or replace it with a custom solution.
Experience a codeless enterprise integration platform

Our HubSpot Salesforce integrations are backed by multiple cloud-based integration platforms. With no restrictions on connections and no software to learn, your company will receive a lightning-fast integration that's easy to use.
Support your one-to-many relationships or child objects
Just about anywhere you can use contact fields in Salesforce, deal fields are available in HubSpot. Child objects are well suited to sync with deals, including sales contracts, assets, and financial records as well as used in smart lists, workflows, and lead scoring.
Build Your Integration
SyncSmart makes pricing easy. Build out your integration here and see a solid estimate of what to expect.
Add a Product
Total Estimated Setup Cost
Total Estimated Monthly Cost
Total Estimated Yearly Cost
You'll receive an email with your estimate soon.
| HubSpot | Connector Type | Salesforce |
| --- | --- | --- |
| Contacts | Bidirectional | Leads |
| Contacts | Bidirectional | Contacts |
| Owners | Bidirectional | Users |
| Companies | Bidirectional | Accounts |
| Deals | Bidirectional | Opportunities |
| Contacts | HubSpot to Salesforce | Campaign Member |
| Deals | Bidirectional | Custom Objects |
| Engagements | Bidirectional | Activities |
| Contact Lists | Salesforce to HubSpot | Marketing Lists |
Make Data-Driven Business Decisions
Learn how the Salesforce HubSpot integration from SyncSmart can help you successfully sync your sales and marketing data.