CONNECTWISE + HUBSPOT
Solve Your Biggest Marketing, Sales, and Operations Challenges
A ConnectWise HubSpot integration automates and personalizes your marketing, better manages your sales processes and pipelines, optimizes your efforts through stronger reporting, and so much more.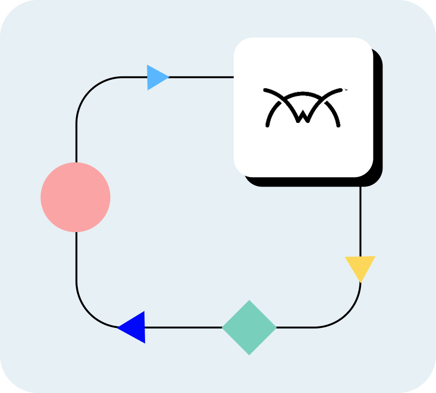 What Can You Do With the Integration?
Automate Marketing
Manage Sales & Partner Relationships
Optimize Paid Ads
Create Robust Reports
Automate Marketing
Reach your contacts at the right time by segmenting and marketing to them in HubSpot based on synced ConnectWise data.
Create segmented lists for lead nurtures and other campaigns
Cross-sell and cross-promote your company's products
Build tailored marketing campaigns like onboarding and welcome messages
Pass leads off from marketing to sales when they're ready
Manage Sales & Partner Relationships
With a bidirectional sync of your sales data, you'll be able to manage your sales and partner relationships better using either ConnectWise or HubSpot.
Send deal information from HubSpot to ConnectWise.
Build a pipeline in HubSpot using ConnectWise opportunity and forecast data.
Track communication with all your clients or partners using HubSpot's email tools.
Make quoting easier and linked to your HubSpot campaigns using HubSpot's quoting tool.
Optimize Paid Ads
Utilize your ConnectWise contact and company data to optimize your paid ad efforts with HubSpot's ad tools.
Create a lookalike audience based on segmented client lists
Automate activities based on prospect engagement with ads
Personalize with the most up-to-date property and field data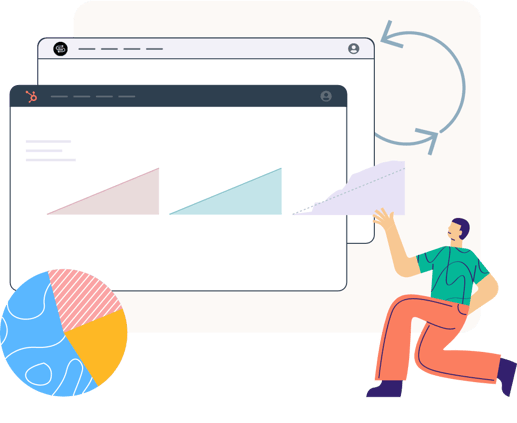 Create Robust Reports
Everything that syncs between ConnectWise and HubSpot can be used in HubSpot's reporting tools to help inform your company about your performance.
Build reports and dashboards on what products or services you've sold
See how much revenue marketing generated per campaign
Get a pulse on your sales activity and upcoming opportunities
Keep check on the overall health of your business by creating executive-level reporting
What Object Data Flows Between ConnectWise and HubSpot?
The ConnectWise HubSpot integration bidirectionally syncs HubSpot and ConnectWise standard and custom field mappings in real-time. Bidirectional syncs ensure what happens in one system happens in the other — without anyone on your team having to manually enter data again.
HubSpot

ConnectWise

Contacts
Contacts
Companies
Companies
Deals
Opportunities
Engagements

SyncSmart supports notes, calls, meetings, and tasks for Engagements.
Activities

SyncSmart supports notes, memos, calls, appointments, tasks for Activities.
Products/Line Items

"Products" are required for line item syncing and sync in one direction, from ConnectWise to HubSpot. Priced as one object mapping.
Products/Forecast
Total Estimated Monthly Cost
Total Estimated Yearly Cost
You'll receive an email with your estimate soon.
Easily Launch Your Integration
Reaping the benefits of your ConnectWise HubSpot integration is simple and only takes a few steps.
1. Download The App From HubSpot Marketplace

Head to the HubSpot app marketplace to download your integration, grant access to Integrate Connectwise, and select your portal.
2. Choose Your Object Mappings, Sync Settings, and More

Begin the installation process, and enter your customer, billing, and company information. Then select which objects you'd like to sync, what fields you'd like to sync, and which direction you'd like each to sync in (one direction or bidirectional). Enter descriptions and filter criteria as needed.
3. Go Live — And Remember We Are for Support

When you're happy with your selections, hit Submit and go live with your integration. It should start working immediately but can take up to a few hours. If you need help at any point, you can purchase a managed support package.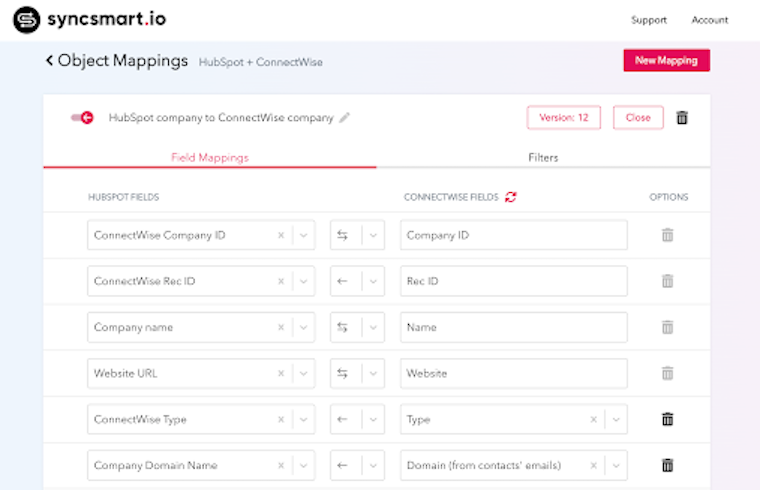 "Without the exchange of information between these two systems it would be impossible for us to accomplish these goals in an efficient manner. Practically speaking the exchange of information between the two systems was previously a manual process and had several gaps. Not only will this allow us to close those gaps, it also saves CCB hours of time each month."
Improve Your Marketing Campaigns Like CCB Technology
See how CCB Technology personalized their marketing campaigns and won big with the integration.
FAQ
Need an Answer Now?
Browse our frequently asked questions.
What direction does the data flow between HubSpot and ConnectWise?

The ConnectWise HubSpot integration syncs data bidirectionally, meaning what flows into one system flows into the other. In the user interface, you can select which direction you'd like your objects to sync on an object-by-object basis.
What can I expect for a typical integration timeline?

That depends, especially on your involvement during UAT. With guided implementation, it can take 6-12 weeks.
What is the difference between SyncSmart and HubSpot Data Sync?

HubSpot Data Sync allows HubSpot users to create one-way or two-way syncs between HubSpot and other apps. ConnectWise is one. The HubSpot Data Sync integration has the capabilities as SyncSmart. SyncSmart offers more object mapping than HubSpot data sync and supports all custom fields on objects. Additionally, SyncSmart offers drop-down mappings, owner-mappings, version history control, sandbox environments, and dropdown value syncing while Data Sync does not. Note: Owner-mappings in the SyncSmart ConnectWise HubSpot integration means that the SyncSmat team maps HubSpot users to ConnectWise team members and sales representatives. This helps you operate from one system.
Once the integration is complete, how will I be supported?

The SyncSmart team actively monitors for errors to prevent integrations from stopping. You can also purchase managed support packages to gain access to support articles, ticketing desks, and more. You can explore managed support packages here.
Is the integration secure?

Yes. All SyncSmart integrations are point-to-point integrations that transmit data between systems without mirroring to a data warehouse for analysis, which results in secure syncing. SyncSmart also hosts each customer within a separate, secure customer account with their connector authentications, data cache, and integration runtimes.
Request A ConnectWise HubSpot Demo
Learn how the integration can improve your business processes through better data today.